"Readers' Corner"
Have your "story" printed here
All material here in BtDigest online is copyrighted (c) by Break Through Inc and is the express property of Break Through Inc. with permission from it's contributing writers/readers with acknowledgement to them as the authors.
Here are some new articles below and also continued at next page:
Above is a video of our friend Dylan Kuehl.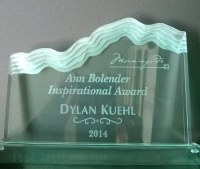 Ben and I met him in 2008 at the 31st Annual Employment Conference in Ellensburg, WA where he was a presenter.
He has accomplished a lot in the last 7 years and he is a wonderful young man with many goals ahead of him. ( by Dee Anderson)
Visit him at our "Friends" page or on his website at DK Arts.
*******
Dylan's "Words of Wisdom"

"I want to send a message to the parents by telling them, to tell their kids, not to be afraid to show their abilities. Show the public, the world, what they can do. And most importantly, show the world how important they are. I want them to feel what I'm feeling. It's time for them to shine, because they are the future generation.
My message is simple: It's about abilities, not disabilities. Thank you."

This is something I wrote for my college application ~Personal Statement~ My name is Dylan Kuehl (Keel), I am 31 years old and I have Down syndrome. Having Down syndrome also rocks. All my life I have been a dreamer and a visionary. I have multiple goals and my biggest goal of them all is to start building a band that plays children's music right away. I need first college programs to do it. What I need from Evergreen is to gain access to just one leadership class for band building and to meet other people in my age range with the same interests.
My second goal, not as big as the first goal, is to start building a video game. Again, I need special college programs to do it. What I need from Evergreen is to gain access to special courses to know how from basic fundamentals to advance with improvement in a working process from a helping hand.
What I like about Evergreen is the size of the class like seminars. I like small classes with a group dialogue, so I can focus more, able to speak in class, able to have collaborative learning and show better improvement to the teacher with a working process of a project that meets the criteria that is shown above.
Improvement to me is about not making mistakes. There's no right or wrong answers, just doing our best. Improvement is also about problem solving and making it work at the best of your abilities. I believe that we cannot be too perfect not all the time. I believe this at Special Olympics:
"Let me win, if not, let me be brave in the attempt" (athlete's oath, Special Olympics).
The two of the criteria mostly the first on is important to me, both of my parents came to this college and now as their son it's my turn. Now these are the words that describe me as a student: I'm a quick study (quick learner) but sometimes slow, free spirited, energetic, respected, trust worthy and most of all a friend in need is a friend indeed and to be one.
(by Dylan Kuehl)
***************

Believe in Yourself
As I look back on the time and effort it takes to make it through college, I often look back in amazement. So many of us with disabilities are often told college isn't the place for us. For those of us who do manage to make it to college, it is no doubt a challenge. There are times when no matter who you are, whether you have a disability or not, you have doubts about the choices you make in life.

I for one cannot say that I was without my doubts as to what I was doing in college at times. When I was a teenager I had dreams of going to college and gaining skills to develop upon experiences that I had already gained with social workers. By the time I had reached age 16 I had made up my mind that it was going to become a reality. Although there may be a variety of obstacles to face when attending college, I truly believe that the biggest barrier to any accomplishment is yourself. A support system can only take you so far, if you don't have the will and drive to make things happen for yourself they won't. Despite all my doubts and worries about being able to make it through college, I came out the other side a better person for all the struggles I experienced.

I was able to graduate with honors from the University of Wisconsin Eau Claire, and I now hold my bachelor's degree in social work, as well as my license to practice in the state of Wisconsin. The thing I would like those with disabilities to remember is that as long as we are able to set aside doubts and worries, then the sky is the limit for what can be accomplished. -- Ashley P. ( Sept. 2014)
( Ashley is one of BT Digest contributors, a wonderful lady who we wish the best in her career)

************************
"Getting Back to Me"
Written by Ashley Parkhurst
This year has been a full of challenges, disappointments and discovery. Despite the growing fear in the pit of my stomach I decided to take a leap of faith and move out of the nest.
August 25, 2010 was the day that life as I knew it changed. It's surprising how much a person can change in just a year. When I moved out I expected the expenses but anticipated the freedom of decisions. I didn't expect the changes within myself. As a teenager, I knew relying on other people for my basic needs was difficult but didn't realize the difficulty of finding reliable workers.
It has been a year of lessons. The most important was not to trust everyone who seems to be your "friend". Shortly after moving, workers were not showing up and coming and going as they pleased. When it comes to school, if I'm not in control I feel lost. I also have high standards. Unreliable workers led to other things slipping from my grasp.
I looked in the mirror and saw someone that I did not recognize, I had no idea what to do. I managed to finish with decent grades and was thankful for summer break. Little did I know, something big happened that was going to make a big difference.
In April 2011, my cousin Ethan was in a motorcycle accident, taking away the function of his legs and most from his arms. Ethan's questions allowed me to view my problems differently and made me realize I don't have to be consumed by stressful situations. The words, "God never gives us more than we can handle" have never meant more to me. I appreciated meeting Ethan's friend Steve, who was in a motorcycle accident 4 years ago, losing feeling and function in part of his body and half the feeling in his arms. He still plays songs he played before his accident. Watching him play made me realize how much I miss the things I love the most. I don't know if I will ever be able to thank these men enough. The moral of the story, it is important to keep an eye on the prize, while making time for the things you love. I'd like to end with a quote that will stay in my mind forever, "the choices you make are the challenges you face"-Steve Mireau:-
******
"Pressures of Success"
by Ashley P.
The pressures of success are heavy. Especially to those better known as people pleasers: people who put everyone else's happiness before their own, assuming with the satisfaction of others, they themselves will be satisfied. Believe it or not, I was one of these people. Coming from a broken home and not having the best relationship with my father and step-mother, I've done everything possible in my young life to make them think I was going somewhere and I wasn't just a couch potato waiting for everyone to do everything for me. I always thought that if I could just keep the peace with everyone around me, then everything would be fine and I could just keep that big fake smile on my face.
While in the time I spent at UW-Stout, I not only met a variety of people and learned a lot from them, but I learned a lot about myself. In talking to a friend that has many of the same challenges as myself, I learned that if you live for everyone else's happiness, it will eventually kill you. This became reality for me, not only with my daily life challenges but in particular, my dreams of going to college. I've constantly been told that I would not be able to make it through college, and I have to admit there were times when those words sounded like reality. Eventually I began to realize that I have to live my life the way I want to and not pay any attention to the reactions I get from others around me. Though this task isn't the easiest and will be something that I will continue to work at on a daily basis, it is one of the most valuable pieces of advice a friend could ever have given me. DVR (Department of Voc Rehab) have repeatedly used money as an excuse for me not to continue my education. Long story short, I qualified for unsubsidized student loans and when DVR found out, they continued to say they weren't helping with any of my educational finances. It just goes to prove my point that you have to live for yourself and not live for what other people are expecting of you. In the words of the brilliant man who created this website: "If you don't need someone and can find your way without them, tell them to go to hell."
October 2009
(note: CAP (Client Assistance Program) in Wisconsin should be able to resolve continuing education money issues with Vocational Rehab. for this writer. )
***************************
"Changing Point of View"
By Ashley P. ( a university student from the Midwest)
Most of the time I'm an open book when it comes to my disability; Although there are some experiences in my life that are difficult to share with others, I find sharing my story can lead to other people giving their perspectives on situations and possibly changing mine. Even though I have attended a camp for people with disabilities for almost thirteen years, my views on how to deal with the struggles that come with having a disability were still very narrow, even at eighteen. I thought if I could make everyone else happy that I would be happy.
However, my perspective has been altered during the past year that I have spent at the Transition Partnership School on the UW Stout campus where I met a variety of people with different disabilities. While making adjustments to this new environment I met a young man that has a disability similar to mine and my first thought was "How can you be closed off towards other opinions?" I didn't realize how parallel our lives ran until we set aside our differences in opinion and recognize the similarities.
I grew up with a very supportive family for the most part; while he grew up "on the wrong side of the tracks". The more time I spent with this young man, I learned you don't always have to paste a smile on your face to hide the fact; things aren't going the way you plan. There are many things that this person went through that I could never imagine going through; let alone not having the support of family while going through those challenging experiences. When I heard his story it twisted my stomach into knots. I couldn't believe what he had gone through and had the motivation to go to college instead of wandering the streets. Often, he's told me not to look at him as a saint because he's done many things in his life that he's not proud of, but he has made an impact on my life that has caused me to rethink my path in life as well as how I handle when people try to steer me in a different direction. This friendship as well as other experiences in the Transition Partnership Program has made me into a different person. I don't know how I will ever be able to repay any of the staff for that.
May 2009
"